Here ye, here ye, the time has come to spread some small business Christmas cheer for all to hear, with Podengo's Christmas gift guide. This year we've decided to share a two-part blog special featuring products and services from some of the incredible businesses we've come to know. So if like us, you want to support local this Christmas and shop small, this blog is for you. 
Before we get into our exclusive selection of gifts, we thought we'd to give a little nod to Father Christmas (featured in our blog banner); as those of you with children will appreciate, this is an extremely busy time of year for him. That said, he has kindly arranged a small window to offer personalised custom videos for children (and adults) who want to hear from him. For more info, visit him at  www.northpolegreetings.com where you can view a sample video! (He's the real deal).
Now on to part one of Podengo's Christmas gift guide, featuring a range of present ideas made with love; read on for this year's gift inspiration.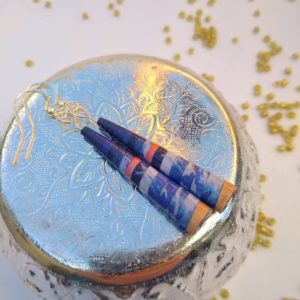 Sustainable treasures for the win.
Check out these gorgeous earrings from Hollymadethis, using hard-wearing varnished beads made from recycled paper, and a choice of silver/gold plated wire or sterling silver. Each pair is unique! Prices start at £15 and can be ordered here.
Be the Hero your dog thinks you are. 
Do you know someone that is mad about dogs? Do you often find them talking to anyone who will listen about their furry friend? Has their phone run out of storage because of the endless cute photos of said sleeping dog? Then this sweatshirt from Houndstruth is for them. Buy it now for £35, with a percentage from every purchase going to support local dog rescues; you're not just treating one person here. 
Comfort, Joy & Light
This luxury gift box from Bloom In Soap includes a thoughtful selection of beautiful, luxurious natural skincare and wellbeing products for that special someone. includes luxury handmade soap, Whipped Body Butter, and an aromatherapy scented candle. This box comes in a choice of three bundles; winter's kiss, Cinnamon spice and tree hugger. All made with natural organic ingredients and come with plantable labels to enable you to grow wildflowers that support our ecosystem. Available for £39.
Handmade & made to order children's clothing
Olivella offers a range of children's clothes in gorgeous autumnal hues, fully stocked with sizes aged newborn – 5-6yrs, prices starting at £12. They also offer a made-to-order service but get in quick if you want delivery for Christmas. For more info, click here. 
Who doesn't LOVE a gift box?
We have a carefully curated 'Calm Gift Box' from Eliza and Ted. Including Love Cocoa Christmas pudding chocolate bar, Teapigs spiced pear tea, Salt & Steam strip rosemary, tea tree and peppermint body scrub, Flora & Wick Christmas Spice soy candle, Wild Rising orange + lemon lip balm for £35. Not sure what to get him this Christmas? The men's gift box includes Popcorn Shed gingerbread gourmet popcorn, Buttermilk Christmas pudding fudge, Love Cocoa Christmas pudding milk chocolate, and Barber Pro-face putty for £24; buy it here.

Everyone needs a pair of Christmas PJs
.
And Zoe and Zach have got just the pair for you. Check out their handmade Pyjamas, available in a wide range of organic fabrics and fun, festive designs, aged newborn- 6-7 years, with prices starting at £15.50. Visit their website here or pop over to Etsy if you prefer. 
For the Fandoms.
Fanboxxed is a fan-based merch site unlike any other. If you know someone who is crazy about Harry Potter, Star Wars, GOT or anything really, why not surprise them with this specially selected box of merchandise, based on their favourite fandoms. Box prices start at £20. For more info or to discuss creating your own box, click here.
Curvaceous vintage and alternative apparel
For beautiful and unique vintage dresses, check out Bitchin Boutique, with sizes ranging from 16+; if you know someone that loves that 50's style, they will LOVE their dresses. We know you'll be spoilt for choice on their website, so don't waste time trying to choose one; get them a gift card here and let them do the choosing! After all, that's half the fun.
Bespoke and Stylish Keepsakes
We have this gorgeous heart locket necklace from Avalanche Avenue in sterling silver. Embossed with stunning flowers on both sides, this locket opens at the side, revealing two spaces for photographs or prints. With a vintage-inspired look, this piece is timeless buy it now for £35.
One for the crafty kittens out there
If you know someone who loves to get crafty, check out this embroidery kit from Treasure Kave. Filled with wholesome vibes, this House plant embroidery kit is bound to make you smile from start to finish and beyond. Suitable for complete beginners and comes with video instructions for a more engaging and fun learning experience. Starting at £21.50, check out their full range with kits suitable for age 6+  here.
Something for every Kid
Ducky Zebra creates colourful, sustainable clothes for babies and kids up to 6 years old. Their bespoke designs are free from gender stereotypes and inspire kindness and confidence in those who wear them. This organic cotton sweatshirt in brushback fleece means it's warm and cosy inside; buy it now for £24.50 here.
Finally, we must mention prices are all subject to postage and packaging, and we all know just how hectic Christmas deliveries can be, so please don't leave it to the last minute. Get your orders in now and save everyone the Christmas rush. Stay tuned for part two of our Christmas gift guide, where we will feature some lovely gift experiences from more small businesses.